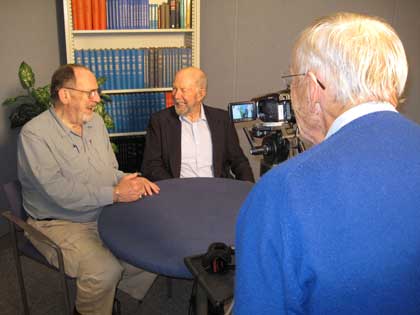 Many organizations, large and small, depend on volunteers to accomplish their goals and provide essential services to the community. Not only does society benefit greatly from community volunteerism, but volunteers experience significant benefits as well. Volunteering has lasting positive impacts on an individual's health and happiness, especially among older adults. Seniors who volunteer on a regular basis (at least two hours per week):
Report a greater sense of satisfaction and personal fulfillment in their lives
Maintain or increase their social network and ties to community
Show fewer signs of depression
Tend to live longer and retain their independence later in life
Many UC Davis departments rely on the services of volunteers. Whether your interests lie in the care and support of people, animals, or plants, you can find a department that will welcome your assistance. If you do not live in the Davis or Sacramento areas, you are encouraged to seek out volunteer opportunities in your area—you and your community will reap the rewards.
UC Davis Volunteer Opportunities – Davis campus
Retirees will find ample opportunities to serve the university in a volunteer capacity. Whether your interests lie in the care and support of people, animals, or plants, you can find a department that will welcome your assistance.
UC Davis Retiree Center
More than 50 volunteers serve the Retiree Center by planning and implementing programs, assisting with administrative tasks, attending outreach events, and overseeing special projects. If you are interested in volunteering for the Center, please contact the Center us for more details.
UC Davis Retirees' Association (UCDRA) and UC Davis Emeriti Association (UCDEA)
The UCDRA and the UCDEA are both all-volunteer organizations, independent from, but closely aligned with, the university. These two associations play an important advocacy role for all retired faculty and staff, both at the campus and statewide level. The associations sponsor quarterly membership meetings and monthly talks for members. In addition, the UCDEA coordinates the Video Records Project, which creates historical DVD's of interviews with emeriti and campus administrators. The UCDEA and UCDRA are both volunteer organizations. If you are interested in volunteering for a committee or serving as a board member, visit their websites for more information.
   UC Davis Emeriti Association
   UC Davis Retirees' Association
The Robert and Margrit Mondavi Center for the Performing Arts
The Robert and Margrit Mondavi Center for the Performing Arts depends on volunteer ushers from the community to assist in offering patrons the finest performing arts experience. Mondavi ...
Osher Lifelong Learning Institute (OLLI)
OLLI offers a diverse educational program of high quality, affordable courses and events for seniors living in Davis and nearby communities. Volunteers teach courses, lead discussions, organize events and serve on committees or the Board of Directors. OLLI ...
UC Davis Arboretum
UC Davis Arboretum volunteers work as gardeners, nursery assistants, curatorial assistants, docents and naturalists. Opportunities also abound for short-term projects, including planting or garden clean-up, and special projects such as garden design, computer programming, marketing, graphic design, photography and other fields. Arboretum ...
UC Davis Botanical Conservatory
The Botanical Conservatory houses more than 3,000 plant species and serves as an educational facility, research resource and genetic diversity preserve. Volunteers propagate plants for the fall plant sale, working every Wednesday evening from late February through November from 6 to 9 p.m. Botanical ...
UC Davis Raptor Center (CRC)
The  CRC is an educational and research facility dedicated to the rehabilitation of injured and orphaned birds of prey (raptors). Volunteers assist with rehabilitation tasks such as cage cleaning, feeding, catching, handling, and restraint of birds, and taming and release of birds back to the wild. Volunteers also assist with educational presentations, and facilities and grounds maintenance tasks. Raptor ...
UC Davis Craft Center
Craft Center offers over 400 classes per year in 10 different craft areas, from ceramics to welding to woodworking. Volunteers help with a myriad of tasks, including registering customers for classes, checking out tools, cleaning the studios and assisting with administrative tasks. Craft Center ...
UC Davis Center for Mind and Brain
The CMB is a research and training unit dedicated to understanding the nature of the human mind from interdisciplinary perspectives. The center uses paid volunteers to participate in behavioral, electrophysiological, and/or functional magnetic resonance imaging research. CMB ...
Tahoe Environmental Research Center (TERC) - Incline Village, NV and Tahoe City, CA
Volunteer docents help visitors to have an enjoyable educational experience through which they will learn about Lake Tahoe and environmental problems affecting it. After completing a docent training program, volunteers can select from a variety of tasks, including assisting visitors with hands-on science activities, explaining to visitors the various exhibits, leading tours, assisting in outreach programs for schools and community events, and working in the docent office, assisting with filing, typing, mailings, phone and e-mail correspondence. TERC..
UC Davis Volunteer Opportunities-Sacramento campus
UC Davis Health System
Volunteers assist the UC Davis Health System in its mission of education, research and public service. These programs add the extra dimension of sensitivity, support, friendliness and service that ease and brighten a patient's hospital stay or clinic visit.
Hospice Care
Hospice care involves support for patients who are going through the dying process and their loved ones. Hospice volunteers are instrumental in providing needed support during this crucial time. Hospice Volunteering ...
Pets Helping Us Recover Program
The Pets Helping Us Recover (PHUR) Program is designed to brighten a patient's hospital stay. The program provides designated patients with a special visit from a friendly dog and volunteer. The PHUR program accepts volunteer applications from dedicated individuals whose dogs have the proper temperament and personality to perform visits with patients in a medical setting. To obtain a PHUR application packet, please call (916) 734-2401 and ask that a PHUR application be mailed to you. Visits may be made during the weekdays, early evening or weekends. PHUR...
Shriners Hospital
At Shriners Hospitals for Children Northern California, individuals from all walks of life share their time and talents to enrich the lives of others. Whether working directly with patients or in an office setting, volunteers support Shriners Hospital in its mission to provide the highest quality of care to children with orthopedic conditions, spinal cord injuries and burns. Shriners hospital is located across the street from the main hospital, and is closely affiliated with UC Davis Health System. Shriners Volunteering...
UC Davis M.I.N.D. Institute
The M.I.N.D. Institute (Medical Investigation of Neurodevelopmental Disorders) is committed to excellence, collaboration and hope, striving to understand the causes and develop better treatments and ultimately cures for neurodevelopmental disorders. Volunteers assist by giving psychosocial support, participating in patient care and healing, assisting Institute staff and giving administrative support to our development team in ways that free the staff for more critical responsibilities. M.I.N.D. ...
UC Davis Alzheimer's Disease Center
The Alzheimer's Disease Center's goals are to educate health professionals and the public about Alzheimer's disease and related dementia; conduct research in clinical and community populations into the causes and potential treatments for dementia; advocate changes in health policy and practice that will enhance the recognition, treatment and management of dementia and serve as an expert referral center for the diagnosis of dementia. The center needs volunteers to participate in a variety of research projects. Alzheimer's ...
Beyond UC Davis
International House, Davis
International House, Davis is a non-profit organization which promotes respect and appreciation for all people and cultures. We encourage a global community by providing many opportunities for cross-cultural interaction and exchange. Volunteers are an integral part of I-House. They are involved with much of the programming, upkeep and renovation of the facility, assisting the office staff, teaching classes, maintaining the yard and the facility, fostering a warm and welcoming atmosphere, and more. Additional information and current volunteering opportunities can be found at: http://www.internationalhousedavis.org/support-i-house/volunteer/
Citizens Who Care for the Elderly
A non-profit organization that provides social support to the frail elderly and their caregivers, provides a variety of volunteer opportunities. Citizens Who Care…
Yolo Basin
Additional volunteer opportunities in Davis
Tags