About the UC Davis Retiree Center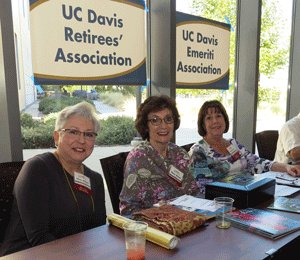 Mission
The UC Davis Retiree Center's primary mission is to help our retired faculty and staff continue a strong connection to the university.  The Center will facilitate a role for retirees in the campus community and enhance the quality of life in retirement by providing access to professional resources specific to the needs of retirees.  We achieve our mission by supporting the work of the Emeriti and Retirees' Associations and providing programs and services that support retirees at the UC Davis and UC Davis Health Systems locations, and contribute to the continued well-being and creativity of all retired faculty, staff, and their families.
Staff
The Retiree Center is staffed by two full-time UC Davis employees and a part-time student assistant — Becky Heard, interim director, Marjorie Ahl, program assistant, and Deanna Agneta, student assistant. Additionally, the Center is supported by many volunteer retirees, who assist with details such as event planning, administrative tasks, and committee responsibilities. Staff ...
History of the Center
A dedicated group of retirees, staff, and university administrators worked diligently between 2001 and 2006 to develop and implement the concept of the UC Davis Retirees Center. The Center opened in 2006 under Program Coordinator Doreen Barcelona Strnad, and celebrated its fifth anniversary under Director Sue Barnes. Additional history...