Visit us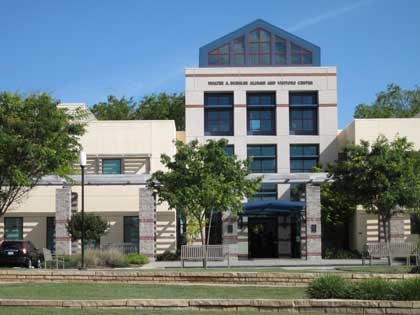 UC Davis Retiree Center
Walter A. Buehler Alumni Center, Suite 110
Davis, CA 95616
Suite 110 is located to the left just inside the main entrance of the Alumni Center. The Center is generally staffed from 9-12 and 1-4, Monday through Friday. However, we are a two-person office, so please call prior to visiting to ensure that someone will be able to assist you.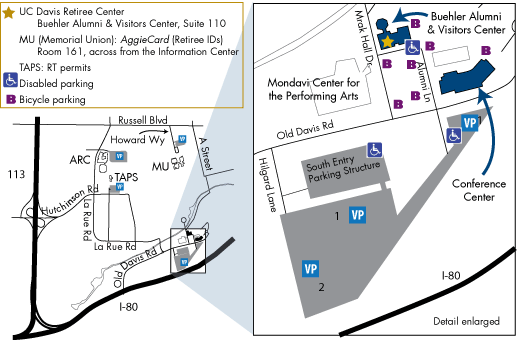 Parking:
It is convenient to visit the UC Davis Retiree Center, as ample parking is available in the Gateway Parking Structure (formerly called the South Entry Parking Structure) or in adjacent surface lots. For short-term visits, four 30-minute parking spaces are sometimes available directly in front of the Alumni Center. Additionally, passengers may be dropped off at the entrance to the building.
Parking on the Davis campus requires a UC permit (from either Davis or any UC campus) or a daily permit. Be sure to display a permit.
Day Use Permits: Day use permits may be purchased from the parking permit dispenser at the entry of the parking structure. The machine accepts cash or credit card.
RT Permits:UC Davis retirees may obtain a complimentary RT permit from Transportation and Parking Services (TAPS) located just off Hutchison Drive near the Pavilion (formerly called West Entry) Parking Structure. A current photo ID and proof of UC retirement are required to obtain an RT permit. Please refer to our benefits page for additional information.
Disabled Parking: A valid UC parking permit and a California DMV-issued disabled person's placard/plate are both required when parking in a disabled space. Two disabled spaces are located directly in front of the Alumni Center and many additional spaces are located on the east end of the South Entry Parking Structure.